Services We Provide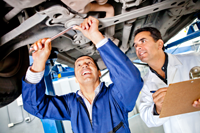 Here at Duke's Transmission Sales & Service, we take pride on using our expertise to provide high-quality service to make sure you leave our shop satisfied. We take pride in hiring trustworthy, knowledgeable technicians that care about you and your car. We want to gain customers that will be customers for life, not just a one-time service.
From Automatic to Manual, we've got you covered. Our highly trained mechanics utilize the best in automotive transmission repair technology for a rapid turnaround time, so you spend less time in the shop, and more time on the road.
Call us today for more information on how we can help you with all your automotive needs!
---
Transmission Repair
Automatic Transmissions
Rebuilt Transmissions
Cooling Lines
CV Axles
Electronic Controls
Engine RPM
Exhaust System
Fluid Leaks and Retention
Manual Linkage
Neutral Switch
Throttle Linkage
Transmission Mounts
U-Joints
Bench Work
Warranty Service
Free Road Tests
Computer Diagnostic
Estimates
Towing is Available